Meme! The Cook Next Door
In marketing terms, I am what you may call a
late adopter
.
In grade school, not only was I the last one picked for the kickball team, I was the last one to know there
even was
a team.
It's only been in the last 5 years that, all of a sudden, I "got" the Beatles. And the whole time Kurt Cobain was alive and I was ragging on Nirvana for being "sell-outs", I never once listened to their music. Long after he died, I finally listened to "Nevermind".
Boy. Talking about feeling stupid.
It's taking these factors into consideration that I knew that if I didn't jump onto this
current meme
bandwagon thing in the Flogosphere, I would've regretted it. Besides, even though I made some great
"rizz-zot-tow"
from Gordon Ramsay's seasonal cookbook and Bruce and I took a trip to Half Moon Bay to eat fish tacos and take photos of brussels sprouts fields, I'm feeling a little dry with the word-juice right now.
Thanks a big ol' bunch
to Meg Woo at
I Heart Bacon
for tagging me for this meme chain of love. I've got a hot piece of balut and ice-cold Stella
with your name written all over 'em
!
1.
WHAT IS YOUR FIRST MEMORY OF COOKING/BAKING ON YOUR OWN?
Well, apparently most people believe "assembling" is cooking, and using that criteria, I've been "cooking" since my mom gave me a key and showed me where to catch the bus. However, if by cooking you mean the art of preparing whole, raw foods into some, hopefully edible, form, then that was definitely the first, and only, time I made dinner for my Mom and Dad, which was when I was about 11 or 12.
The dish was tomatoes picked from our garden, which I filled with a ground beef mixture and baked. It wasn't half bad, especially considering it came from a Time/Life cookbook. I think that's when I first realized that if you could read and follow directions, you could cook.
Later on, I realized that you can't always believe what you read.
2. WHO HAD THE MOST INFLUENCE ON YOUR COOKING?
This question should be phrased "who had/has", because my cooking is still influenced by one person: Bruce.
Bruce is one of the best cooks I know and it was his interest in cooking that inspired me. Up until the time I moved in with him, I was lost in the wilderness of junk-food vegetarianism, and had a downright shameful attitude towards food. Not to say that corndogs, Papa Murphy's take-and-bake, and Mac and Cheese haven't ruled at one time or the other in our hizz-owws, but cooking "outside of the box" has been pretty consistent for the last 10 years.
Besides, everyone needs a friend, partner, or relative to cook for. Interdependence makes us better cooks and human beings. That is why yesterday
I
celebrated "
Interdependence
Day". America is a melting pot; is a soup; is a salad; is a buffet; is a drive-thru with shoddy speakers, yes.
We're in this together – no one is independent.
3. DO YOU HAVE AN OLD PHOTO AS "EVIDENCE" OF AN EARLY EXPOSURE TO THE CULINARY WORLD?

Whaaaa you talkin bout?! Of course I do!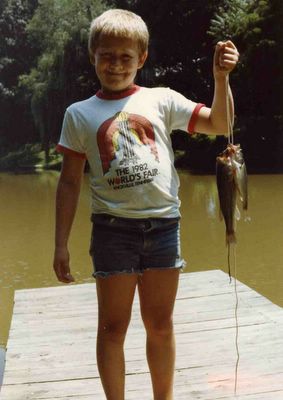 You would call this "urban foraging". We called it Thanksgiving. No matter what you call it, it wasn't easy holding my breath for that long under water.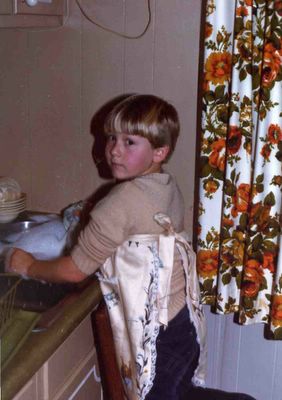 Before I became a sasquatch, I lived the sad life of a small wood-sprite captured by a lonely, human family, who forced me to do hard labor and other menial chores around their home. Too bad you can't see the chain around my ankle. It gave me quite a rash. Here I am washing the humans' dishes and simultaneously hatching an escape plan.
4. MAGEIRICOPHOBIA – DO YOU SUFFER FROM ANY COOKING PHOBIA; A DISH THAT MAKES YOUR PALMS SWEAT?

As simple as it seems, fish makes me all moist, clammy, and sticky. "Shrimps" not so much, but live, whole fish give me the willies. I've baked whole fish to success, but I still feel like a fish out of water when I run smack sand dab into a real fish market.
Do I just pick any fish? What's good? Where's that damn
print out
of mine from the Monterey Bay Aquarium?
Lately, I've been working myself up to buying a live fish in the CT. What's got me all freaked out is figuring out how to kill it. Do I just smother it to death? Do I smack its head against the curb? Force it to listen to "Lite Rock/Less Talk, KOIT"? And can you believe I'm apprehensive about filleting?
I'm going to conquer this fish-o-phobia, dang it!
5. WHAT ARE YOUR MOST VALUED OR USED KITCHEN GADGETS AND/OR WHAT WAS THE BIGGEST LETDOWN?

Believe it or not, it's a can opener. Have you
ever
tried opening a can without one?
I have.
First, you spend hours looking like a complete ass trying to rub the top of it against the sidewalk, as you think "whittling" it down will just make the top come off. Then there is the sharp, pointy-object method of stabbing a large enough hole in the top to actually get to those beans. I call this The Death by a Thousand Cuts method. Likely, the death is your own.
When the Book of Revelations turns out to be true, much to the dismay of godless heathens such as myself who've mocked it relentlessly, I will stand to face Judgement wielding only a can opener and DAMN all who come before me!
6. NAME SOME FUNNY OR WEIRD FOOD COMBINATIONS/DISHES YOU REALLY LIKE – AND PROBABLY NO ONE ELSE DOES.

It's not that weird. I *heart* BLT pizza. That is, pizza with bacon and tomato baked on, with mayonaisse and then shredded lettuce spread on afterwards.
This pizza got me through puberty.
Funny? Is teenage crime, drug-use, and anti-authoritarianism funny to you, buster? This pizza kept me out of the pokey, but barely. Everything may go better with bacon, but give me a side of mayo and bury me in the garden.
7. WHAT ARE THE THREE EATABLES OR DISHES YOU SIMPLY DON'T WANT TO LIVE WITHOUT?
Excluding mayo, I've got to give props to the all-mighty onion.
Onions are the opium of the masses. Onions are the building blocks of cuisine. Onions belong on the Nasdaq along with pork.
Onions will make you cry, but I would definitely cry if I could never eat cheese again. And I would cry if I couldn't eat pasta. Obviously I know that we are well adapted to consume almost anything for food. If a cow suddenly couldn't eat grass, she couldn't just turn around and chomp on a chicken wing. What makes humans so much cooler than we appear while feeding our faces at Tony Roma's is that we could totally just walk down the street and feed off of bean sprouts.
But since you asked, leggo my pasta, onions, and cheese.
Any question you missed in this meme, that you would have loved to answer? Well then, feel free to add one!

Only one:
8. WHAT IS YOUR SOUNDTRACK WHILE COOKING?

Pretty much anything by Phil Ochs
Oum Kolthoum, "Aghani Film Rabeah" (this also tends to be my doing-dishes soundtrack; listen and you'll know why)
Serge Gainsbourg, late 60's era
Anything and everything by Yo La Tengo
Nusrat Fateh Ali Khan, "En Concert A Paris"
k.